Ace and Louise's Story
"Children who start school with strong learning foundations are more likely than others to be motivated and successful learners at school." (Report of the review to Achieve Educational Excellence in Australian Schools, March 2018).
Whether your child is in preschool, day care or at home, transitioning to Kindergarten can be a challenging time for you and your child. As the founder of Discover Learning Australia and an accredited Early Childhood and Primary School teacher, I have witnessed this first hand. Louise, one of our School Readiness parents had the same concerns before enrolling her son Ace in our School Readiness Program. Here is what Louise has to say about the education service we provide: School Readiness Video.
School Readiness has never been more important than it is today! Many primary schools conduct initial assessments before accepting enrolments and there is an increasingly added pressure in education and more focus on academia in Kindergarten than ever before!
At the end of term 1, we met Ace and Louise at our School Readiness Taster Sessions in Eastgate Shopping Centre Bondi Junction. It is now nearly term 4 and Ace is loving his School Readiness classes with Laura, one of the passionate teachers at Discover Learning. "My son absolutely loves coming to class and learning, growing and becoming a confident young boy," says Louise. Ace has formed a beautiful bond with his classmates. He has already grasped all of his letter sounds and is now blending them together to form words – maybe you have seen this Superstar in action on our Instagram page! Ace is still working hard on his fine motor skills and is growing in confidence each week.
Ace 'Learning in Action':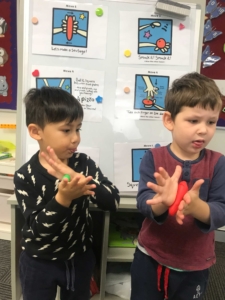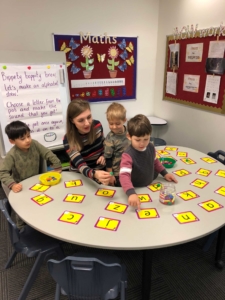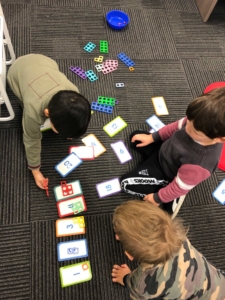 Chances are, your little one has already begun the transition to Kindergarten. Our personalised, 'Quality First' School Readiness program is designed to support, consolidate and extend their learning to ensure your child starts Kindergarten happy and confident.
Your child will be taught by our experienced Kindergarten teachers. They will ensure your child has achieved all the early learning outcomes, before focusing on the foundational literacy and numeracy skills that will be taught in Kindergarten. "We are so glad we discovered such wonderful, caring, honest and resourceful teachers who make learning fun. Their results speak for themselves!" says Louise.  If your child is enthusiastic about learning, why not give your child a head start before they enter their first year of formal schooling?
Our hands-on activities assist to develop your child's fine motor control and expose them to foundational literacy and numeracy skills. Most importantly, we instil a love of learning at an early age. We aim to give every child the best chance at succeeding and thriving at school, enabling them to reach their full potential.
What will my child get out of a School Readiness Program at Discover Learning?
Social skills such as turn taking, cooperating and sharing with other children
Communication skills which encourage listening and talking
Learning behaviours like following instructions, transitioning between activities and completing tasks
Fine motor skills and correct pencil grip
Pre-literacy skills including recognising and using phonics, sounds, letters and words
Pre-numeracy skills developing understanding of problem solving and maths concepts
A 'Quality First' School Readiness Program
Primary School teachers with real classroom experience
Personalised 'Discover Learning Plans' for each child
Small class sizes (maximum 4 children)
Safe, supportive learning environments which mimic a Kindergarten classroom
Most importantly, a love of learning
Click here for School Readiness activities to try with your little one at home.
Come and experience our fun-filled and educational School Readiness Taster Sessions at Discover Learning, Bondi Junction. Each child will receive a School Readiness gift bag and be in with a chance of winning our School Readiness hamper! We cannot wait to meet you :).
BOOK NOW to secure your child's place!